Psychedelic Fruit Punch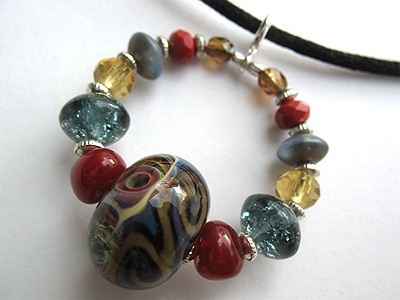 This stunning loop pendant features a creation by master artisan, Julio Wray of Redside Designs, of an exceptional borosilicate lampwork centerpiece with intricate murrine patterns of pipes, scrolls, and spirals. The large focal bead has a multi-leveled and multi-colored design that is amazing no matter which way the bead is turned. The glass bead is surrounded by glass beads of tannish yellow, brown, oxblood red, and shimmery blue hues, with little silver accents and is double-strung with strong nylon coated wire. The loop hangs from a satin cord with a large lobster-claw clasp closure that has a teeny starfish charm accent.

This item is available online in my etsy shop!