Mini Rainbow Mambo (custom)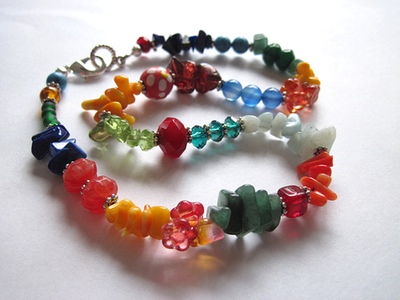 Mini-Summer piece to match her mama's necklace. Custom - please only order it if you asked for it :)
This asymmetrical and a little bit crazy colorful necklace combines a mix of colors including synthetic amber nuggets (resin), red garnet chunks, green jade, light blue amazonite, turquoise rounds, orange, yellow, and red coral chips, some green and dark blue stones, and some faceted velvet like ruby glass and crystal in teal hues, and a fun painted wooden polkadot bead too, along with some fine pewter accents.
Made for a small neck, to match her mama, this necklace measures approximately 14.5 inches and closes with large silver plated clasp on a loop eyelet.