Little Mermaid Loop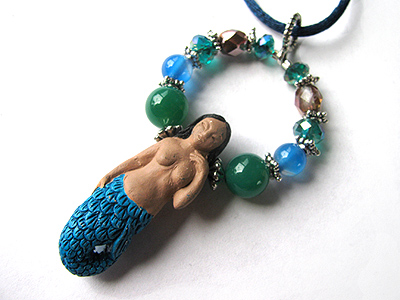 This loop pendant features a neat little ceramic mermaid bead which was hand crafted in Peru - truly unique!
The mermaid is surrounded by some glass and jade beads in teal, green, blue, purple - and some silver accents.

The loop is double-strung with strong nylon coated wire and hanging from a satin cord which closes with a lobster-claw clasp that has a teeny starfish charm accent.

I strung this loop on the super-strong wire as I usually do, but with the ceramic bead, am urging caution and common sense about not swimming or showering with it and getting it soaked, and if you've got a little one with grabby hands, to caution that while the loop itself is strong, probably the bead itself isn't something that anyone should be tugging on.