Christmas Berries Netted Necklace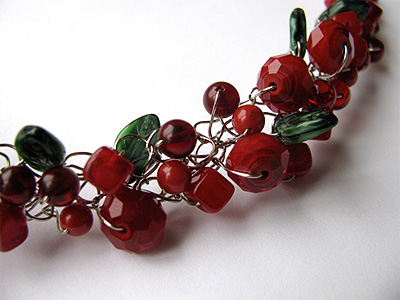 The large faceted red glass "manmade ruby quartz" beads in this necklace look so rich and colorful they are like velvet. There are also garnet-red glass rounds and fine cubes of czech glass in rich oxblood red, along with some small bright red mother of pearl beads and green glass leaf accents, all floating on a mesh ribbon of silver colored wire which has been stitched together with a crochet needle.
This necklace sits more like a collar closer to the neckline, measuring approximately 19 inches in length, and closes with a handmade hook. If you need it made a little bit longer the design is one that can be extended with some extra eye-loops so let me know.