Woman in a Pea Pod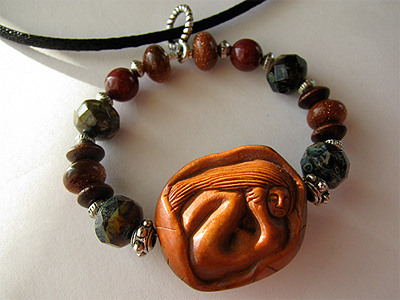 This necklace features an intricately detailed, three-dimensional wooden Japanese ojime bead handcarved bead made out of boxwood which is signed by the artist.

Because Japanese kimonos do not have pockets, small bags were used to hold personal effects. The bags were attached with a cord with two carved beads: A larger toggle bead (netsuke) and a smaller sliding bead (ojime). Ojime were also believed to have magical or protective qualities.

The woman pod is surrounded by Czech faceted glass in brown hues,wooden disc beads, rusty red jade, and sparkling goldstone, with little silver accents. The loop is double-strung with strong nylon coated wire and hanging from a satin cord with a large lobster-claw clasp closure with a teeny starfish charm accent.

Necklace also looks lovely on a chocolate brown or burgundy red cord. Just let me know by leaving me a Note To Seller if you want it on a color other than the black shown here when purchasing.