Totally Tabular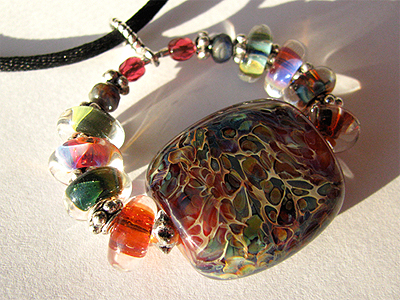 Custom order piece for Amycr :) Do not order unless you are her!

This piece features a fabulous chunky and exotic borosilicate tab bead blooming with inner glow by Lori Lochner, surrounded by a mix of swirled green, rusty red and peachy pink borosilicate glass beads, deeply encased in clear for depth, some tiny faceted turquoise-blue and ruby fuchsia Czech glass, with little silver accents.

Borosilicate glass is a special kind of glass which is actually more durable than normal glass - it is the same kind used in Pyrex and is less dense than ordinary glass and it also requires a much higher temperature to melt compared to ordinary silicate glass.

Necklace would look good on just about any color cord too - burgundy red, navy blue, chocolate brown, emerald green... Just let me know by adding a Note To Seller if you want it on a color other than the black shown here when purchasing.