Abacus Row Counter Bracelet for Knitting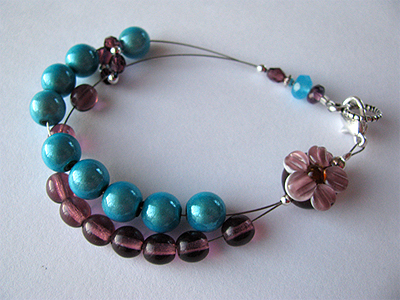 Nine light blue Miracle beads and 9 clear purple glass pearl beads are strung on thick wire with a purple glass marker loop for counting rows when knitting. A purple glass lampworked floral bead represents the starting marker and the bracelet closes with a large lobster clasp so it won't fall off.
(Japanese Miracle beads have a lucite core with silver mirror plate finish and are coated with several layers of colored lacquer. The "miraculous" effect is the result of light passing through the lacquer, reflecting the mirror core and back through the layers resulting in an illusion of depth.)
Bracelet measures 7 inches.

This bracelet is designed to help keep track of your row count when knitting.

The principle is simple - the smaller purple beads represent 1s, and the bigger Miracle beads represent 10s.
When each row is knitted (or crocheted), simply move one 1s bead through the encircling beaded ring to the other side of the bracelet.
When you complete the 10th row, move all the 1s beads back to the 'start', and move one 10s bead through the ring.
Move small "1" beads through the beaded divider ring one by one as you complete rows, until you reach the 20th row, at which point you move all 9 small beads back to the 'start' of the bracelet (which is marked by a charm), and move a second "10" bead through to mark 20 rows - and so on.