Peridot Green Starfish Lanyard ID Badge Holder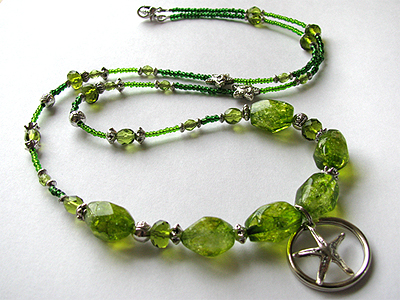 A woman is walking on the beach when she comes across a young girl who is very busy by the waters edge. She asks the girl "What are you doing?", and the girl replies "The tide is going out, so I am throwing starfish into the ocean!"
"But, there are thousands of starfish here! You can't possibly think to make a difference!" exclaimed the woman. The girl continued with her work, bending over and throwing another starfish into the water.
"I made a difference for that one." she answered.

Perfect for teachers, students, medical staff, and anyone who wears an ID badge!
This pretty lanyard is made with a lovely assortment of Peridot green Quartz stones and faceted gems, some fun sparkling green Czech glass, and a mix of seed beads in green hues, with little silver accents of fine pewter in various shapes.
At the center, there is key-ring style loop from which to hang a key-badge, keyring, glasses, or ID badge which has a fun little sterling silver starfish charm dangling over the center.
The lanyard necklace measures approximately 14 inches from the back down to the top of the loop with the starfish charm, and 15 inches down to the bottom of the loop where you clip your ID or hang your glasses.