Amber Starfish Silver Treasures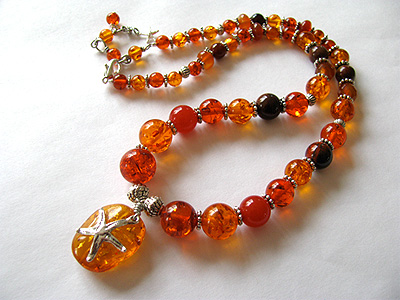 This is a custom-made piece reserved for John! He gets first dibs - if you're interested in something like it please contact me. :)

Beautiful sparkling synthetic amber of deep and light hues mix with an assortment of Red Agate, Carnelian, Bloodstone, and Zebra Onyx gemstones and some little silver accents of fine pewter to surround a neat sparkling centerpiece of a large stone of reconstituted amber with a fun sterling silver starfish dangling on top. Necklace measures about 18 inches with some extra beaded links to extend it's length. It closes with a large easy-to-grasp lobster claw and has a teeny starfish accent on the back there too!