Pocket Full of Posies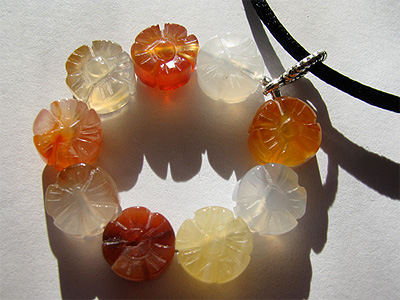 Sweet circlet of warm carnelian hand-carved flowers is double-strung with strong nylon coated wire and hanging from a satin cord which closes with a lobster-claw clasp that has a teeny starfish charm accent.

Carnelian is a reddish colored agate that has been treasured for thousands of years, from the Egyptians, who filled tombs with it believing that it had great power and would help the souls journey to the afterlife, to being a symbol of high social status.
It is said to help calm the temper, increase physical energy, aid in decision-making, and even give career success.