Garnet Atom Smashers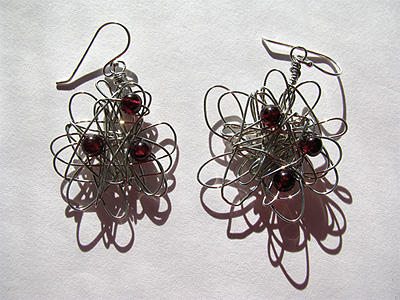 My dad works on the ATLAS project - part of the LHC (Large Hadron Collider) at CERN, and I decided that I needed to make some jewelry in honor of physicists.

Genuine Garnet gemstones are woven into a web of atom-smashing paths on silver plated wire. They dangle on sterling silver hooks.
These earrings make a huge BANG, but they are very lightweight!

I also have surgical steel or Niobium hooks available on request if needed for sensitive ears, as well as little earring backings for folks who want them. Just let me know in Notes To Seller when purchasing.

Please note: photo shows a similar modeled pair of earrings of the same type. I do not wear the earrings that go for sale, but the photo is to show what these look like worn. Your pair is made just for you, and every pair will be slightly different, as these are all totally handmade and unique.