Stellar Lights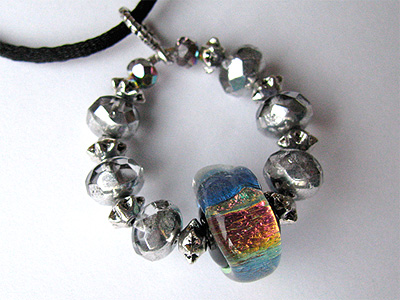 This elegant loop features a fabulous artisan lampworked centerpiece a glass bead of multicolored dichroic layers which is surrounded by glass beads in iridescent silvers and some teeny silver accents.
The loop pendant is is double-strung with strong nylon coated wire and hanging from an silk cord which closes with a lobster-claw clasp with a teeny starfish charm accent.

Necklace also looks nice on a silver cord - let me know if you want it on a color other than black when ordering by leaving me a Note To Seller.

Dichroic glass gets it's name from the Greek for "two colors"- it is a special kind of glass that has been coated with a metallic layer which refracts light at different wavelengths, creating an iridescent effect. The coating which was created by the aerospace industry, shifts colors and fragments slightly when heated, leaving an amazing sparkle that can't be matched by foil or other methods for adding metallic touches to glass.

There is a pair of earrings that goes really well with this loop available as well.