Shadows of Yesterday's Sunlight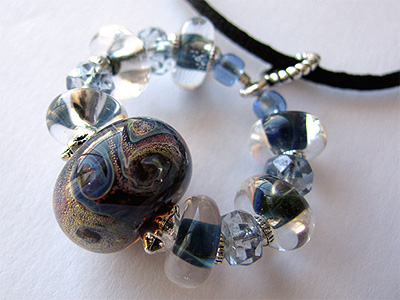 An absolutely fabulous borosilicate glass creation by lampwork artisan Brandie Rosenberry sits at the center of this loop pendant. The focal bead is really mesmerizing: with a base color that shifts from blues to fuschia and gorgeous purples but when you look through them into the light they are a gorgeous ruby (swarovski ruby). The bead is topped with swirls of bubbling pinks, ambers, and cinnamon and has been encased using the spiral method so the encasement runs clear up to the mandrel hole, which translates to a time consuming method which yields absolutely stunning results!
The focal bead is surrounded by more borosilicate clear-encased blue swirled glass beads which have been deeply encased for depth, and some smokey blue glass beads, with little silver accents.
The loop is double-strung with strong nylon coated wire and hanging from a satin cord which closes with a lobster-claw clasp that has a teeny starfish charm accent.

Borosilicate glass is a special kind of glass which is actually more durable than normal glass - it is the same kind used in Pyrex and is less dense than ordinary glass and it also requires a much higher temperature to melt compared to ordinary silicate glass.