Streamers of Stillness (RESERVED)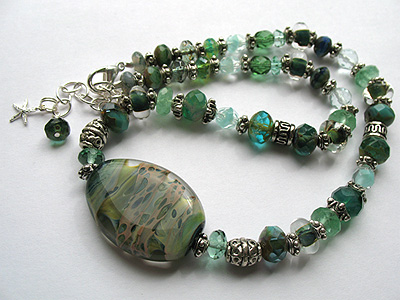 This piece is a custom piece for Jen! Please do not purchase it unless you are her!

This choker style necklace features a lovely borosilicate glass focal creation by lampwork artisan Brandie Rosenberry which has swirls of teal and light green. The focal bead is surrounded by a mix of glass and crystal beads in green and teal hues with little silver accents. The choker measures is adjustable, measuring about 14 to about 17 inches in length, and closes with a lobster claw clasp on sterling silver chain with a beaded accent at the end for adjustment of size to fit your neck.

Borosilicate glass is a special kind of glass which is actually more durable than normal glass - it is the same kind used in Pyrex and is less dense than ordinary glass and it also requires a much higher temperature to melt compared to ordinary silicate glass.