Fire Temple - (Master Quest)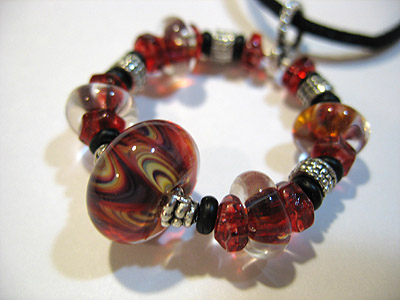 Stunning artisan lampwork borosilicate centerpiece with boro, silver, black and crystal accents make up this loop pendant which has been double-strung with strong nylon coated wire and is hanging from a satin cord with lobster-claw clasp.
(Why yes, my husband and son were, in fact, playing Zelda game when I made this necklace. This is actually the second version of the necklace, using the last of these lovely borosilicate beads as the focal point - the first had sold so quickly I'd barely had time to close my browser after listing it, so I offer it up again as a second-chance.)

This item is available online in my etsy shop!