Bouquet for a SuperMom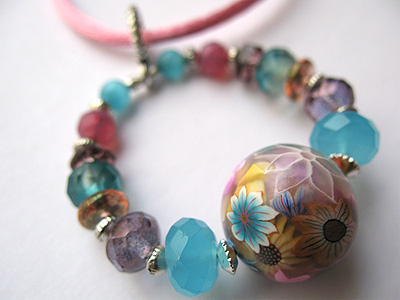 I can cure scrapes and boo-boos with a single kiss! I can scare away bogeymen from closets with the sweep of my arm! I am the finder of lost stuffed kitties and teddy-bears! I am the keeper of the candy jar! I can tell when you're being naughty from the next room, and I have eyes on the back of my head! I control the screens! I wear a cape when I do laundry!
So, what's your super-power?

The beautiful and intricate artisan bead centerpiece is handcrafted by Jenn Edwards completely from polymer clay. No paints or dyes are used. The bead has been cured to insure optimum color and strength, tumble sanded smooth for over twenty hours, buffed to a satin like shine, and coated with a protective and color enhancing layer of polish. It is surrounded by a rainbow of glass and fiber-optic cats-eye beads and little silver accents.
The loop pendant is double-strung with strong nylon coated wire and hanging from a satin cord which closes with a lobster-claw clasp that has a teeny starfish charm accent.