Ojime Hippo Earrings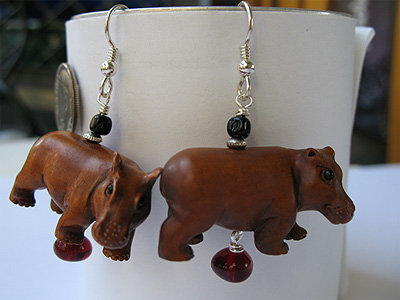 Hippo-fy your ears!

These earrings feature two surprisingly light intricately detailed, three-dimensional wooden Japanese ojime bead handcarved hippo beads made out of boxwood which are signed by the artist, with little glass ruby red and black accents, dangling on sterling silver hooks.

Because Japanese kimonos do not have pockets, small bags were used to hold personal effects. The bags were attached with a cord with two carved beads: A larger toggle bead (netsuke) and a smaller sliding bead (ojime). Ojime were also believed to have magical or protective qualities.

I also have surgical steel hooks available on request if needed for sensitive ears, as well as little earring backings for folks who want them. Just let me know in Notes To Seller when purchasing.

This item is currently only available online in my etsy shop!