Fun Yellow Floral Bookmark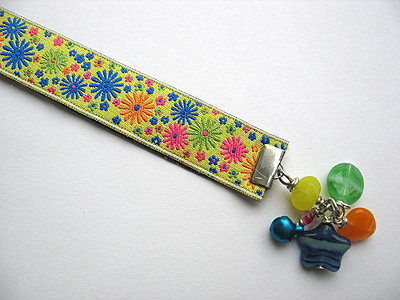 This stiffened and double sided yellow ribbon with a fun and funky floral pattern of bright colors of pink and blue and green has a beaded dangle of a colorful glass beads and a teeny little blue bell which makes a pleasant little jingle hanging off a yellow glass melon bead decorating one end. This is fun little bookmark (measuring approximately 9 inches without the dangles) to mark your place in your daily readings. (The bell is also really handy for locating your lost bookmarker when it falls loose in your sheets and covers when you're reading in bed! )

Shipping on this item is only $1.50 for domestic orders.

This item is available online in my etsy shop!