The Golden Fish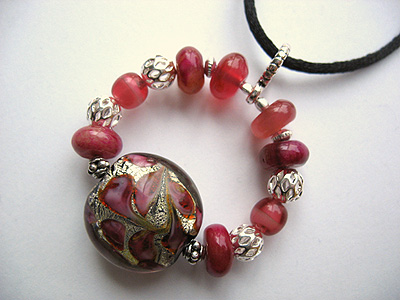 This loop pendant has a lampworked centerpiece of swirled fuscia pink swirls on a silver-gold foiled backdrop like the scales of that mythical wish-granting fish in the old folktale with the old man and his wife in the old folk tales.
It is surrounded by dyed jade of various shades of reddish pinkish hues, glass beads like pomegranate seeds, and silver accent beads.
The loop is double-strung with strong nylon coated wire and hanging from a satin cord with a large lobster-claw clasp closure with a teeny starfish charm accent.