Nautilus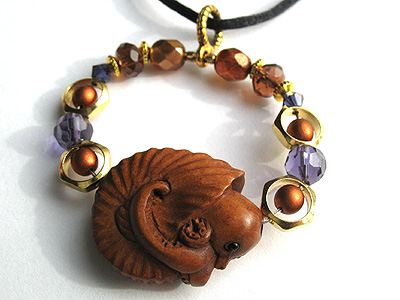 This necklace features an intricately detailed, three-dimensional wooden Japanese ojime bead handcarved bead made out of boxwood which is signed by the artist.

Because Japanese kimonos do not have pockets, small bags were used to hold personal effects. The bags were attached with a cord with two carved beads: A larger toggle bead (netsuke) and a smaller sliding bead (ojime). Ojime were also believed to have magical or protective qualities.

This cephelopod is surrounded by golden hoops surrounding cinnamon rust colored seed beads, brown faceted glass beads, purple swarovsky crystals, and violet and copper colored faceted glass beads.
The loop is double-strung with strong nylon coated wire and hanging from a satin cord with a large lobster-claw clasp closure with a teeny starfish charm accent.

I loved this necklace so much, I kept one for myself. But I did go out and find another centerpiece to make one just like the one I have - it is my favorite necklace!

This item is available online in my etsy shop!