Luminous Wavelet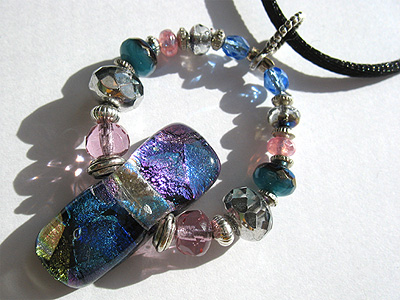 Loop pendant made up of a fused glass bead centerpiece of pink, violet, blue, and green shades of dichrotic glass - my own glass work, is surrounded by pink, blue, and silver irridescent czech glass bead rondelles with little silver accents.
I made the fused glass center bead using a multi-leveled process - layering teeny little pieces of clear and black dichroic glass onto clear and black glass plates, and then sandwiching those plates together with a special non-burning paper that made the hole for the bead. Beads were then sawed from the resulting plate of glass, ground to the desired shape and then refired in the kiln at a lower temperature for smoothness and to give them some extra shine.
An eye catching piece that gets a lot of compliments.
The loop is double-strung with strong nylon coated wire and hanging from a satin cord with a large lobster-claw clasp closure with a teeny starfish charm accent.

This item is available online in my etsy shop!