Golden Sunshine Netted Necklace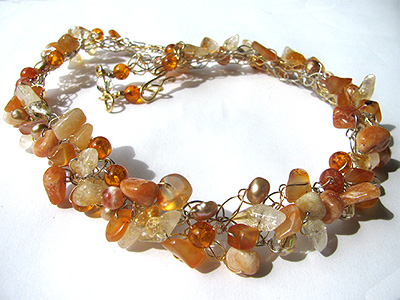 This necklace features a mix of pink moonstones, golden agates, citrine gemstones, firepolished Czech glass beads, fire-agate rounds, little synthetic ambers, and some golden freshwater pearls all stitched together to float on a mesh ribbon of wire in a mix of both silver and gold tones. The necklace has been stitched together with a crochet needle and is airy and light to wear for the punch that it packs.
This necklace sits like a collar closer to the neckline based on the neck measurements, measuring approximately 18 inches and closes with a handmade hook clasp with fun spirally eyelets. I can make it longer with some extra eyelet loops if needed.

If you're looking for a pair of earrings to go with this, the Golden Sunshine Swirligigs are a pretty fun accent.