Peaches and Cream II Netted Necklace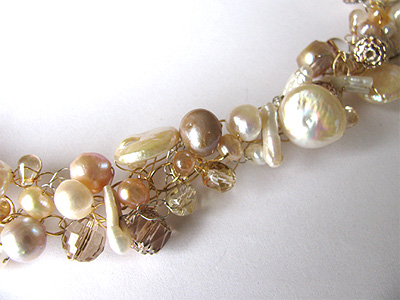 Special custom order :)
This necklace features a mix of lovely high quality freshwater pearls in peachy, pinkish, and white tones, with large coin pearls and stick pearls, as well as a mix of sparkling highly faceted smokey glass rounds, smoke-cathedral glass beads from Czech, and clear rounds with golden and copper base pipings, all stitched together to float on a mesh ribbon of wire in a mix of silver and gold tones. The necklace has been stitched together with a crochet needle and is airy and light to wear for the punch that it packs.
This necklace sits like a collar closer to the neckline based on the neck measurements, measuring approximately 19 inches and closes with a handmade hook clasp with fun spirally eyelets.