Midsummers Ice Cream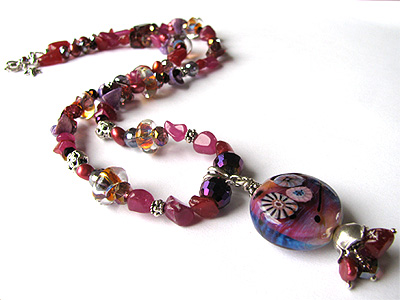 REDUCED FOR CLEARANCE
This necklace was so much fun to make! It features a really lusciously lickable lampwork bead focal piece by Lori Peterson which has 3 murrini daisies floating in a fuscia pool of silver glass. The bead has a flower-bell with mixed stone stamen dangling underneath, and has been beaded onto a richly textured necklace of candy jade and deep red garnet chips, some lovely sparkling faceted glass beads, freshwater pearls, and swirled iridescent borosilicate glass beads, with more sterling silver accents peppered throughout. The necklace measures about 18 inches and closes with a lobster claw clasp with a starfish accent dangle, and all metal components are solid sterling silver.

The Cranberry Bliss Drop earrings go really nicely with this necklace.