Ex Animo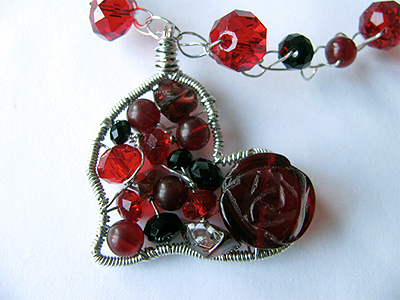 REDUCED FOR CLEARANCE
A ruby-red glass rose and some large garnet gemstones mix with various deep-red and black glass beads which have been wrapped into a heart shape pendant that has been hand-formed out of tarnish-resistant silver wire.
The pendant, along with some more garnets and glass stones, has been woven into a mesh ribbon of tarnish resistant silver colored wire which has been stitched together with a crochet needle, with a thicker chain across the back of the neck.
Necklace is adjustable and closes with a lobster claw clasp onto a longer chain that had a starfish accent dangling on the end, and can measure up to 24 inches in length.