Mermaid Secrets Netted Necklace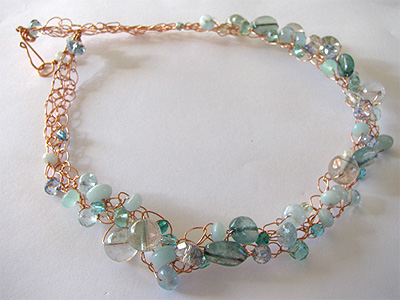 REDUCED FOR CLEARANCE!
This necklace packs a punch, but it's light and airy too, and quite comfortable. A mix of lovely high quality aquamarine, quartz, moss agate, and amazonite stones mix with sparkling glass beads in a mix of minty hues to float on a mesh ribbon of copper wire which has been stitched together with a crochet needle.
This necklace sits more like a collar closer to the neckline, measuring approximately 17.5 inches in length, and closes with a handmade hook. If you need it made a little bit longer the design is one that can be extended with some extra eye-loops so let me know.