Bubblegum Springs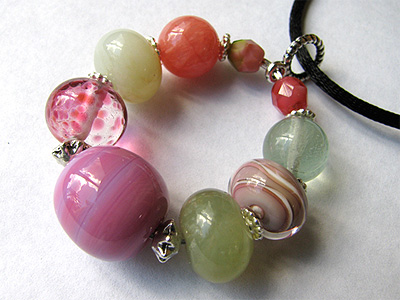 Something just a little different - an asymmetrical collection of artisan lampwork glass beads by a local artist, some faceted Czech glass, and some gemstones. Pinks, pale apple greens and fuschias, polkadots and stripes, glass and rainbow flurorite and jade - they mix together with tiny little silver accents to form this whimsical colored loop.
The loop is double-strung with strong nylon coated wire and hanging from a satin cord which closes with a lobster-claw clasp that has a teeny starfish charm accent.
Necklace also looks great on pink, burgundy, silver, tan, chocolate, or even grassy green cords. Just let me know if you want it on a color other than the black shown here.