Fresh Spring Air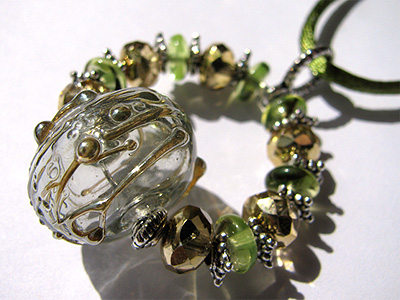 This loop pendant features a neat transparent hollow glass bead by local artisan Carli Schultz Kruse of Juiceglass with lustre (a type of glass that has a shiny metallic quality) swirls across the top. Despite their delicate looks, hollow beads are actually stronger and more durable than their solid equivalents due to the way they are constructed!
The centerpiece is surrounded by a mix of golden faceted glass beads and thin greenish black vintage glass, with little silver accents.
The loop is double-strung with strong nylon coated wire and hanging from a satin cord which closes with a lobster-claw clasp that has a teeny starfish charm accent.

Wound hollow beads are made by creating two glass "walls" constructed on a mandrel, then sealed together, trapping air between them. When heated, the trapped air expands and pushes out the softened glass walls, forming a puffy, lightweight bead. They feel very delicate, yet are every bit as durable as the solid ones, and lighter!

I've put the loop on a grassy green cord, but it also looks good on chocolate brown, tan, and black cord...just about any color, really. Just let me know in Notes To Seller if you want a different color other than the color shown when purchasing!