Astral Projections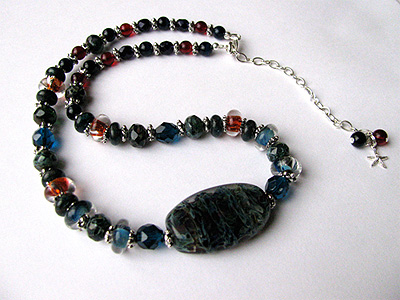 REDUCED FOR CLEARANCE!
This choker style necklace features a lovely borosilicate glass focal maelstrom creation by lampwork artisan Brandie Rosenberry which has swirls of blues and fuschia. The focal bead is surrounded by a mix of glass and gemstone beads in deep blue and rusty red hues with little silver accents of fine pewter. The choker measures about 16 to about 19.5 inches in length, including 3 and a half inches length of sweet hearted chain chain with a beaded accent at the end for adjustment of size to fit your neck.

Borosilicate glass is a special kind of glass which is actually more durable than normal glass - it is the same kind used in Pyrex and is less dense than ordinary glass and it also requires a much higher temperature to melt compared to ordinary silicate glass.