Morning Glory Earrings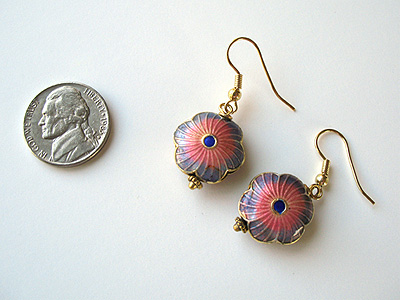 Lovely violet, pink and blue flower cloisonné beads for your ears.

Cloisonné is an enameling technique in which thin wire partitions (called, cloisonné) are filled with enamel. This technique is very old, and was practiced in ancient Byzantium and China. First, delicate strips of copper wire are bent to create a design, then are placed and soldered onto the bead's surface. Next, the spaces are filled with different colored enamels. Finally, the bead is fired and polished several times to produce the desired effect.
Backings are available on request. I now have 14kt gold for super sensitive ears available as well.